HOW CROSSFIT MAKES ME A STRONGER SKIER | 10 Minutes with Alannah Lawrie
06.04.2020
In this new interview series, we sit down with some of the most incredible British athletes and coaches from the world of adrenaline sport, to understand how and why CrossFit has grown to play a role in their training schedules.
This week, we caught up with Alannah Lawrie, 21 year old Team GB Ski Cross athlete, who's goal is qualification for the next Olympics. We learn why she's grown so fond of her time at her local box and why her body is thankful for it.
"I think CrossFit is a great supplementary training for me because of the all roundness of the sport, the weightlifting, the cardio, the gymnastics element and the intensity of it. It's everything you need in one sport. Everything I need to become a fitter and more powerful skier".
Tell us about your career so far, how old were you when you started skiing?  
So far in my career I have been selected for 3 World Junior Championships, became English and Scottish champion in Alpine and gained my best results in the Europa Cup Ski Cross in the previous season. I was 6 years old when I started ski lessons on a plastic dry slope in the UK and fell in love with the sport, I then progressed from there onto snow and joined multiple race teams. 
What does your competition season look like? How many times do you compete in a Winter? 
My season consists of 8-10 Europa Cup competitions in different locations, so there is a lot of travelling and it's pretty hectic moving around every 10 days, but I'm pretty used to it now.  
Does your training programme include a lot of cross training and gym work? 
Every athlete decides what they do in between racing and off-season time. What I do is lots of CrossFit and lots of balance work, to make myself into the best possible athlete I can be and prepare myself for the slopes as in Ski Cross, being the first out the gate has a BIG advantage. 
What exercises would make up your dream WOD? 
This is a good one! Skiing is all about power and explosiveness so it would have to be:
AMRAP 20'
5 power cleans 100/65
10 HSPU 
20 BOX JUMPS
5 Deadlift 130/90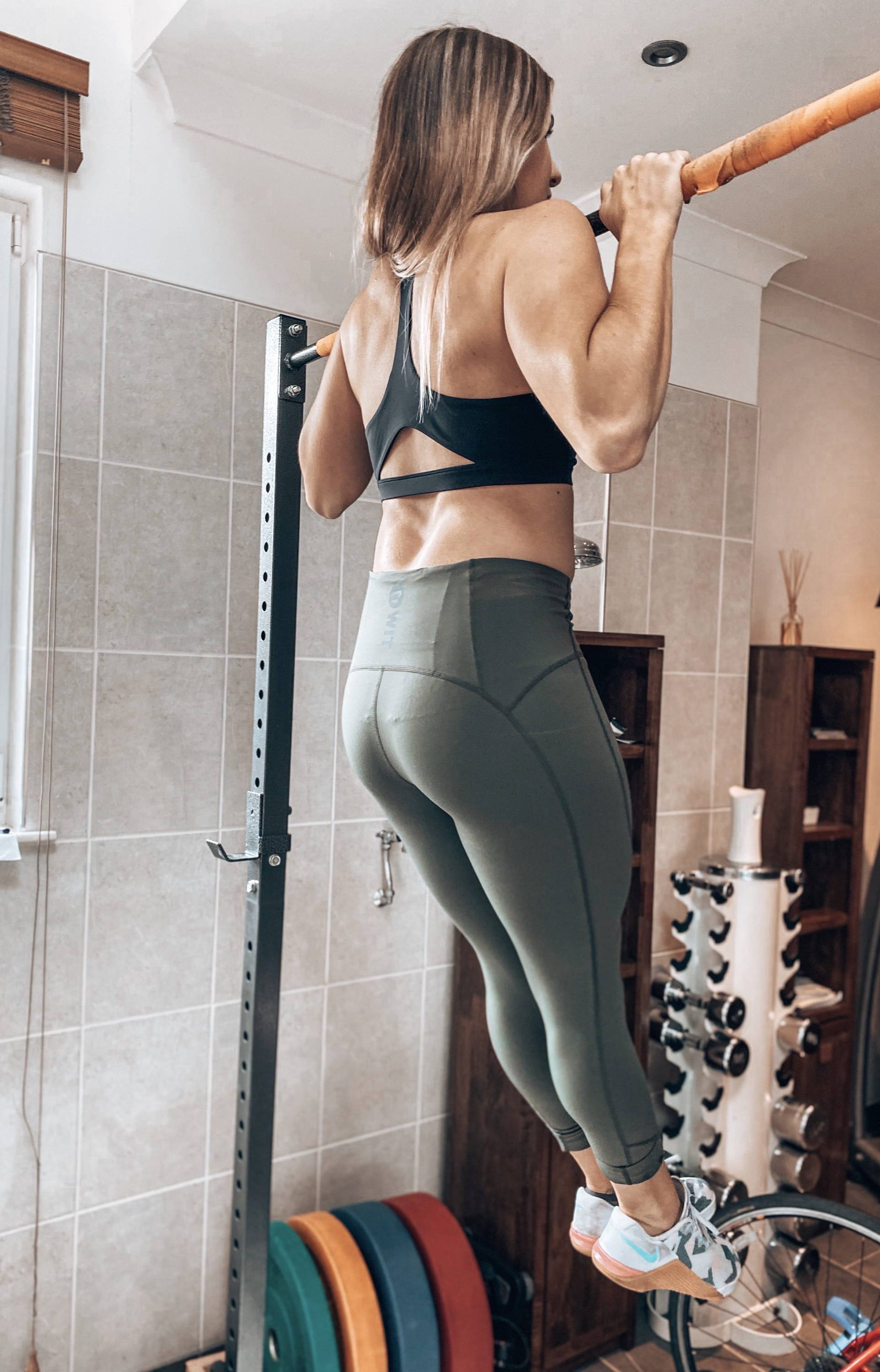 "The body achieves what the mind believes" I have always said this to myself, that nothing is impossible, you just have to believe.
Talk us through a typical day in your life. 
A typical day for me would be waking up at 8.30am, having breakfast and heading straight to the CrossFit box for an hours workout and an hour of extra work specifically for skiing.
I would then come home have some food and head out on my mountain bike to ride some jumps and trails, as it's very similar to ski cross but just on a bike or I would go surfing!
I would then head home and go out in the garden to do some slack lining (a flat rope that I attached to some trees and walk along it for balance work). I would have some chill time in the afternoon and do some skateboarding or watch some Netflix. 
Or, currently, quarantine style….
A typical day for me is waking up at 8-9 am and having some breakfast then heading downstairs to a gym I built for off-season training, which is come quite handy! I do an hours WOD and some stretching or specific work, then have some lunch and head outside to the slack line. I would watch some Netflix and then head out for some skateboarding to get some feeling under my feet.
Do you have a mantra or motto you live by?
"The body achieves what the mind believes"
I have always said this to myself, that nothing is impossible, you just have to believe.
Can you give us any tips for our technique on the slopes? 
My tips are; Keep your upper body forward and keep pressure on the outside ski for whatever way you're turning.