An Interview with Sammy Moniz, Founder of Feeding the Frasers and Fiance of the Fittest Man On Earth
26.03.2020
 You know what they say, behind every great man is….
This certainly rings true for 4 x Fittest Man on Earth, Mat Fraser. His fiance Sammy Moniz, is the powerhouse behind keeping Mat fed, organised and rested and is the Founder of globally famous Instagram account @FeedingTheFrasers. We recently sat down with Sammy to catch up on everything from Feeding the Frasers to working out, to  life before Mat and what it's like to keep the Fittest Man on Earth fuelled.
Let's talk Feeding the Frasers…it's an Instagram page that everyone at WIT and the whole CrossFit Community loves, did you expect it to get as big as it has?
Truthfully, I did not and still coming around to it! I started this page as my own personal recipe log. I structured the photos to help remind me of the steps in each recipe. I'm a visual learner so the photos helped connect the learning for me when I first started cooking with the intention of honing the craft of cooking. I often scroll back through the page to find dinner options or to bring back the memory of a dish. I'd be posting and creating even if no one was following, I'm just amazed that so many people have joined me on this food journey. It's filled with delicious treats and hearty meals!
Do you have a certain style when it comes to cooking? Where do you get your recipes and ideas from?
I get ideas from all over. We are very lucky to travel the world and I get a lot of inspiration from places we've travelled and the food we've eaten on the road. I keep a notebook in my travel bag and often write down ideas inspired from a meal I had on the road to remind me of what I liked/loved about it so I can recreate it at home. I read cookbooks and follow other food bloggers and can learn about new ingredients or how to use a staple ingredient in different ways.
Making sure Mat is constantly fuelled with the right food and nutrients must be a tasking job, what does a typical meals eating look like for Mat? Does his diet and calorie intake change during different times in the season?
Diet and calorie intake changes as the season progresses but we don't have a strict guide, we go off feel mostly. The more Mat trains, the more food he needs to replenish his energy and to help with recovery. I make sure to keep the house stocked with high quality foods. Our meals are pretty straightforward; Rice, meat and vegetables. I get creative with the variations of flavours but when you break down the essence of every meal, those are the staples. The only notable change made throughout the year in relation to diet is that a few weeks out from any major competition I won't have as many fresh baked treats in the house. They're too hard to resist and we recognise it's a temporary moment in time. Once the competition has come and gone, there's typically a celebration with all our favourite treats for a job well done.
Is it a struggle for Mat to maintain and meet his required daily calorie intake? Does he have to get calories though shakes or more calorie dense/less healthy foods?
It can be difficult for Mat to consume enough food. He participated in some testing a few years back and the results showed he should be eating 9,300 calories a day. That's A LOT of food. There's not enough time in the day to consume all that food between the multiple training sessions a day. If I had to guess, I'd say on average Mat hits around 7,000 calories. I make a lot of healthy food but I also recognise he's not totalling 7,000 with fruits and veggies alone. Mat loves sandwiches and burritos, cereal, sports drinks and fruit gummies. When he's in peak training, those foods and calories are essential. When Mat's in an off-season there is less emphasis on eating out of necessity. He's able to simply eat when he's hungry.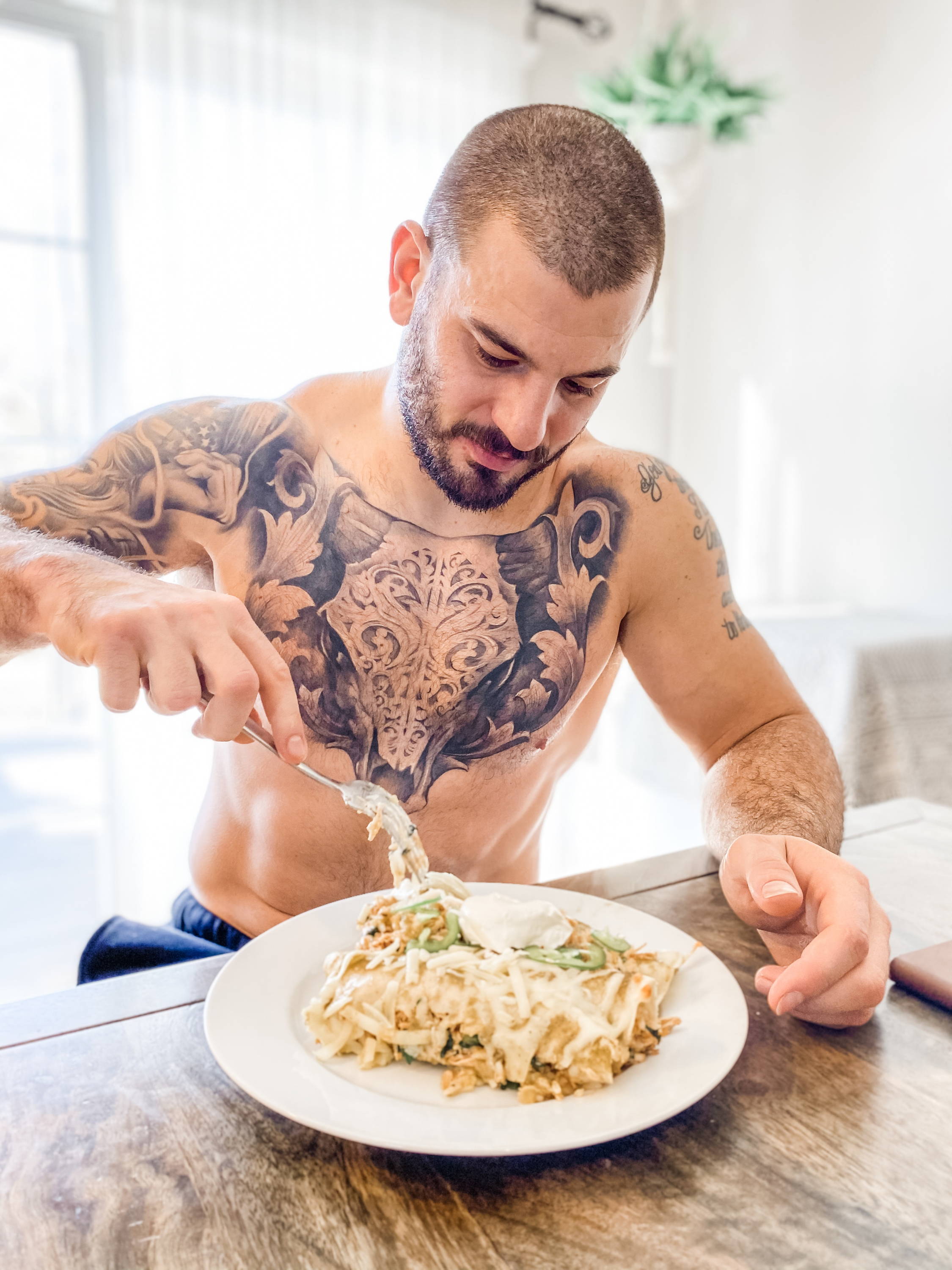 "It can be difficult for Mat to consume enough food. He participated in some testing a few years back and the results showed he should be eating 9,300 calories a day. That's A LOT of food. "
What's your go to 'cheat meal' or treat for you and Mat?
We don't have "cheat meals". If we want pizza, we have pizza. If we want beef stroganoff, we have beef stroganoff. If we want tacos, burritos or enchiladas, we have them! Everything is in moderation. We don't have pizza every night but when the mood strikes, we make pizza. There are times in the year in which we don't treat ourselves to whatever we fancy because the occasional pizza night might not fit within our metric of feel-good-foods at that time. It's about as simple as that around here.
Mat and Sammy vs Tia and Shane in a partner CrossFit workout, who's winning?
As much as I'd like to think I can hold my own and as much as I know Mat would be carrying the team, I think Shane and Tia would take it. Shane is sneaky fit! I would need to appropriately scale the workout to my fitness-level to bring the "W" within reach. Shane often hops in on the workouts he writes up for them and does it as prescribed. He can hold his own!
You're quite the athlete yourself, running in particular? Do you & Shane ever jump in and train with Mat and Tia?
All the time! Shane more so than I because he's with them at the gym all day. He stands back and gives the watchful coach's eye on certain workouts and jumps into others. I enjoy jumping in with the crew on any given day but I'm only good for about 1-2 hours worth of time at the gym. I can't handle much more, nor do I need to ensure that level of training for my own personal goals. I get my time in, get a good sweat and get to take advantage of my time with the group and then often heading home to work on recipes and making sure food is prepped and ready for a hungry #wellfedfraser. I'm mainly just taking advantage of the unique opportunity to be involved. Many people think the memories made at The Games is what will be remembered for years to come. We all recognize it's the ordinary days, the training sessions in our garage or the long runs around the lake that we'll remember the most.
Sammy, what did you do before Feeding the Frasers full time?
Before switching to Feeding the Frasers full-time I worked with Loud & Live as Director of Athlete Relations. I was an Athlete Manager for the 18 professional CrossFit Athletes on our roster. I got to work alongside Matt O'Keefe and learned a lot about the management industry, knowledge and skills I am now able to use to help grow my own business.
Do you miss your old job? Do you still help out the athletes that you used to?
I miss my old job a lot! I was fortunate to work with such amazing people and that was the hardest part about leaving that job. It's something I knew I wanted as it would allow me to live out my passions but I'd become so close to many of them it felt like a breakup. "It's not you, it's me. I need to go off and work on myself". They were a bit sad when I gave the news but all so encouraging. Selfishly they wanted me to stay but were very happy to hear I was following my passion. I still keep in touch with many of them, it's just not as regularly and never business related.
What's next for Feeding the Frasers, will we be seeing a cook book? We all want it!
YES! I'm working on one this year. It's a beast of a project and I'm taking the opportunity to learn even more about cooking and photography. I'm taking food photography classes and diving deep into recipe development. My instagram is a mix of original recipes and recipes found in cookbooks or through other food bloggers that I follow and admire. The cookbook will be all original recipes and its been surreal to start putting development into that project.
If you're inspired to cook like Sammy then try this Taco recipe. It works well even if you have to substitute ingredients and it's a great one to use up any leftovers!
Taco Tot Bake
*1 rotisserie chicken, shredded
*2 roasted poblanos, chopped 
*1 can black beans, drained
*1/2 red onion, sliced 
*1 pckg mushrooms, sliced
*1/2 cup shredded cheese of choice
— brown mushrooms and char onions in cast iron on high 3-5 mins. Add chicken, poblanos, beans and fajita sauce until combine. Remove from heat. Top with cheese, then with tots. 
— bake at 425 20-22 mins until tots are crispy.