HOW CROSSFIT MAKES ME A STRONGER CLIMBER | 10 Minutes with Leah Crane
20.04.2020
CrossFit and Rock Climbing a powerful but rare couplet. A negative perception from media stories and a level of scepticism that throwing barbells around and not doing 'proper' pull ups would benefit training, has for some while been the attitude from the climbing community towards the sport of fitness. Reputations aside, the truth of it is the disciplines and their typically counterculture communities are alike in more ways than one. Athletes at the top of their game and those just getting hooked share the same love for suffering, trying hard, improving, spending Friday nights sweaty and chalky and making a few friends along the way.
Next up in our series of interviews we catch up with 3 x British Bouldering Champion turned Elite Coach Leah Crane, to understand how and why CrossFit has grown to play a role in her own training and lifestyle and why she sees this becoming more prolific as rock climbing becomes respected and acknowledged as a competitive sport. (Tokyo 2020 would have been its debut on an Olympic stage). 
Tell us about your career so far, how old were you when you started climbing and when did you start coaching?  
I first tried climbing when I was 3 at an outdoor crag. I took to it straight away and join my local climbing wall club when I was around four or five.  I grew up in a great community and went on to join the GB Climbing team in juniors, winning handful of national competitions and went on to hold 3 national titles in the seniors for bouldering. I started to compete on the world stage in the senior category at sixteen years old and finished my competitive athlete career just over a year ago. 
With all my experience climbing and being an ex-gymnast and coach, I really love to coach people in the movement of climbing. Seeing someone learn a skill and process to improve their own climbing is heart-warming to witness. I've 'helped' people with their climbing for as long as I can remember but I started to coach movement around eighteen years old. 
Talk us through a typical day in your life. 
Well, from January it has started with a 6:30am CrossFit class. What a way to wake up! Then it's home for breakfast before heading down to a climbing wall or gym for that days training session. Not before a coffee of course! 
After training, me and my other half take our dog Nala out for a long walk or run depending on how we're feeling before its back home for dinner.
Does your training and the training of the athlete you coach differ greatly between competition season and off-season? 
My athlete's training in competition season is very mobile! We're both on the road travelling the world going between the comps. In the times we're back home the aim is keep every discipline of climbing topped up, keeping focus on avoiding injury and staying healthy. My own training takes a back seat during this time as my focus is on her, so I will join in with what she's doing. 
In the off season, training still happens but there is more home time so I can take more time for myself and go to more CrossFit classes to learn techniques. 
Does your training programme include a lot of cross training and gym work? 
When I was competitively climbing, I did a lot of conditioning for fingers, upper body and core with running thrown in there as well. But this was just for bouldering. Nowadays, if a climbing athlete is climbing in all three disciplines, you have to cross train and be in the gym to make sure your body is strong enough and robust enough to meet the demands of training for the sport. 
Now that I have stopped climbing competitively, I go climbing in my own time to enjoy it and not to train so much.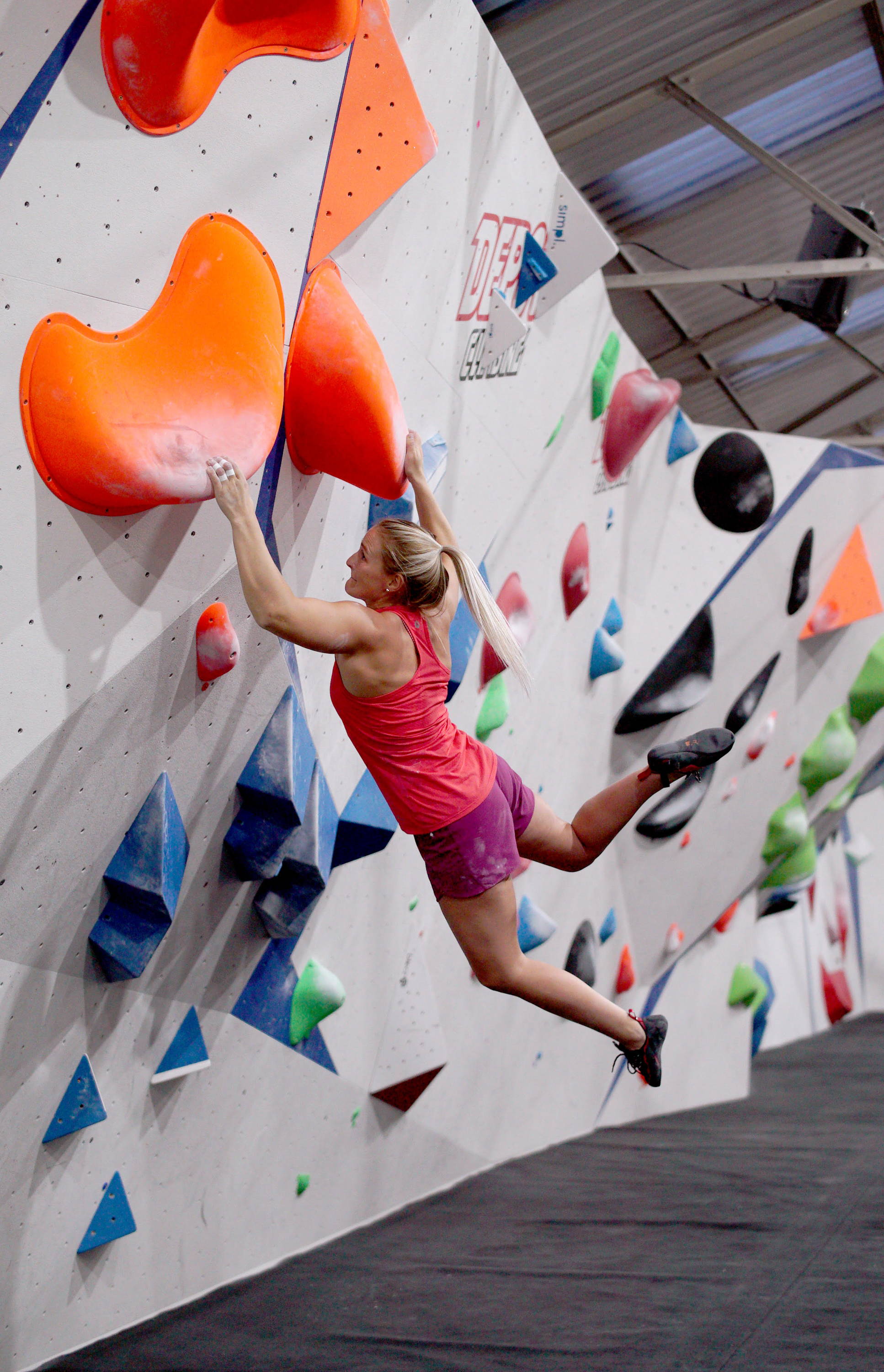 CrossFit has been one of those words that banded around and I never really took notice off. It sounded really hard work! Then I watched Redeemed and Dominant with my other half. It was exciting and I was in awe of how hard they worked.
What attracted you to CrossFit? How does it complement climbing?
CrossFit has been one of those words that banded around and I never really took notice off. It sounded really hard work! 
Then I watched Redeemed and Dominant with my other half. It was exciting and I was in awe of how hard they worked. 
Being a climber and an ex gymnast I was drawn to some of the movements but it was my other half that actually booked us onto a foundation class. We did our first WOD - ABBATE at the end of the first week not really knowing what we were in for. I died, but I came back for more, I guess that what CrossFit does, it breaks you down but builds you stronger. It complements my climbing by making me more powerful, it has actually built me some calves and made me more mentally determined. I've never known how hard I could try before I tried CrossFit. 
What exercises/lifts/movements would make up your dream WOD?  
C+J is my favourite! So those definitely.
I've only ever done strict pull ups in my life so kipping Pull-ups are almost refreshing! And handstand walks are fun. I like the movement of Single arm DB snatch too.
Do you have a mantra or motto you live by?
Be nice. Appreciate. Simple. 
What are your goals for 2020?
My goal for 2020 is to feel all round better at jumping, lifting, running and feeling fitter. I have some hero workouts saved to use as a fitness marker that I want to retest at the end of the year.
On the lifting side of things, I would LOVE to hit 75kg on clean and jerk but without a bar and weights right now, that's looking less likely!
And my power clean is nearly 15kg stronger than squat clean so I also need to address my squats!