WIT x Battle Cancer | Changing Lives with Training
05.02.2020
WIT believes training has the capacity to change lives. Sadly, we know something else that also has this capacity, is a Cancer diagnosis. This is why WIT are proudly supporting Battle Cancer, as their global headline partner.
Battle Cancer is the world's leading functional fitness fundraising event series. Their mission is to inspire, support and unite people with one goal; kicking cancer into the dust.
"We want to drive a movement that helps those affected by cancer, to inspire them in their darkest moments and support them in recovery." Scott Britton, Founder and Director Battle Cancer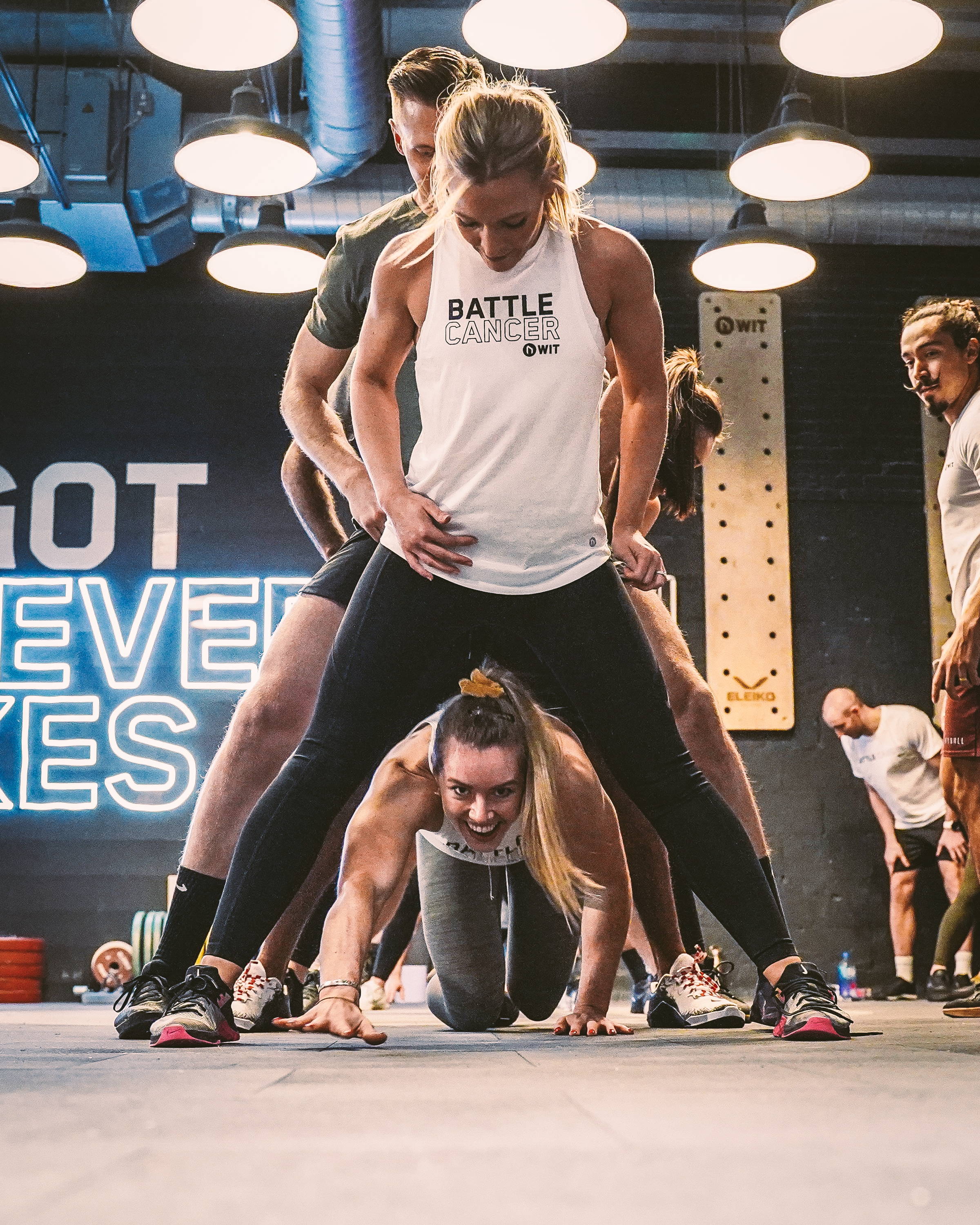 "WIT is proud and humbled to partner with this organisation in 2020, with the hopes that our involvement can help catalyse their global mission of driving movements that help those affected by cancer, to inspire them in their darkest moments and support them in their recovery." Dan Williams, CEO WIT
Their fundraising efforts have so far seen over 2,500 athletes participate in their competitive events world-wide, with over £300,000 being raised to date. 2020 will see a growing number of events across Europe and the USA.
The partnership was celebrated with an exclusive launch event at WIT's Flagship London Hub. WIT members, cancer survivors, CrossFit Games athlete Zack George and the Buttery Bros came to WIT to throw down and show their support. The evening saw over 50 people attend to take part in energetic, playful workouts synonymous with Battle Cancer's inclusive events, that place teamwork at the centre of the experience. 
The event also saw the launch of an exclusive range of Battle Cancer event t-shirts designed and made by WIT, which are available to buy instore now.
"WIT is about learning from failures, the willingness to forge on and the guts to reach your full potential. It's this ethos that strikes a chord with us at Battle Cancer"
Scott Britton, Founder and Director of Battle Cancer
Together, Battle Cancer and WIT want to inspire and empower more people to take on a fitness challenge. Raise funds for cancer charities close to their hearts and achieve more than they ever thought possible. The 2020 season kickstarts this weekend in Dublin, Saturday 8th February with five pumping workouts instore for everyone competing. Made up of creative movements using simple equipment, think sports day, but for adults!
If you're inspired and want to sign up to take part, click below to find out more.