WIT Nano 9 Collab Review
23.12.2019
In this iteration of WIT Reviews, we invite Kevin Torres, curator of @reeboknanoclub onto WIT Newsroom to take us through the journey the Reebok Nano has had so far, and get his take on our latest collaboration with cultural icon, Reebok. The WIT x Reebok Nano Pack hits WIT in Limited Supply this Boxing Day 26.12.19 7PM GMT/2PM EST. 
----------
From @reeboknanoclub
Since releasing the first generation of the Nano in 2011, Reebok has been steadily improving how it designs shoes for functional fitness. Nine years later, it's widely accepted that the shoe's newest version, the Nano 9, gets so many things right: stability, comfort, flexibility, functionality, durability, and aesthetic design. But this isn't another performance review of the Nano 9. I'll leave that to Joel, the prolific reviewer behind the website As Many Reviews As Possible.

Instead, we're going to focus on some of the key design features that make this second collaboration between Reebok and WIT (Whatever It Takes) unique among its peers and one of the best Nano 9 colorways to date.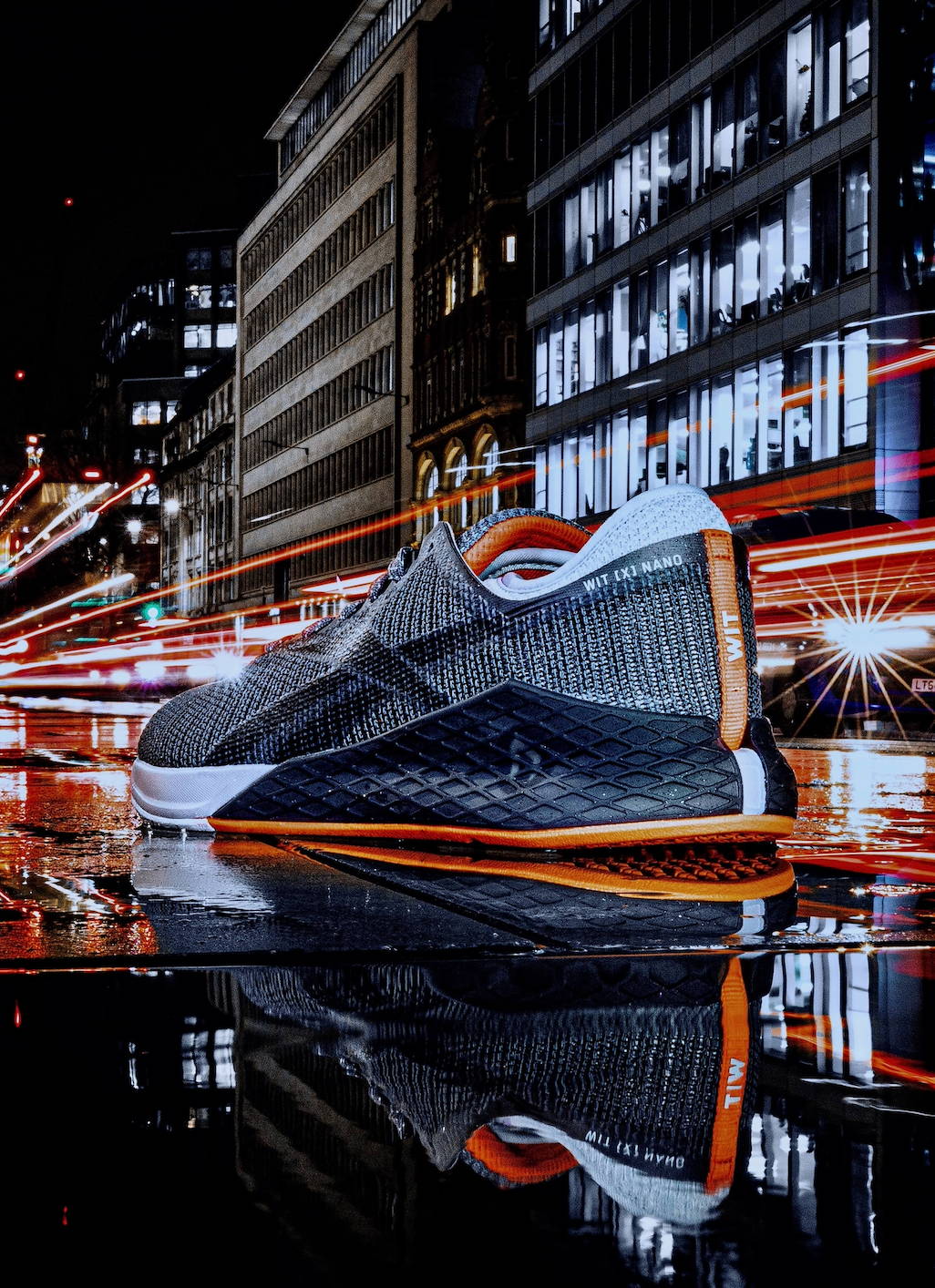 What you'll first notice about the WIT x Nano 9 are its orange accents, inspired by the bright lights and big city brilliance of London.
These accents also embody a familiar setting: the dark industrial space of a typical box offset by the intense splash of color found on a rack of bumper plates.
EARLY DESIGN IMAGE COURTESY // WIT ARCHIVES ©
The shoe sports a steel grey mesh upper, with a light grey midsole and a sock liner that echoes the rugged interior of WIT's urban retail space. But the Nano 9's upper isn't devoid of pop. An orange underlay blazes through the steel grey upper, creating a subtle yet stunning contrast that's unrivaled in the Nano collection.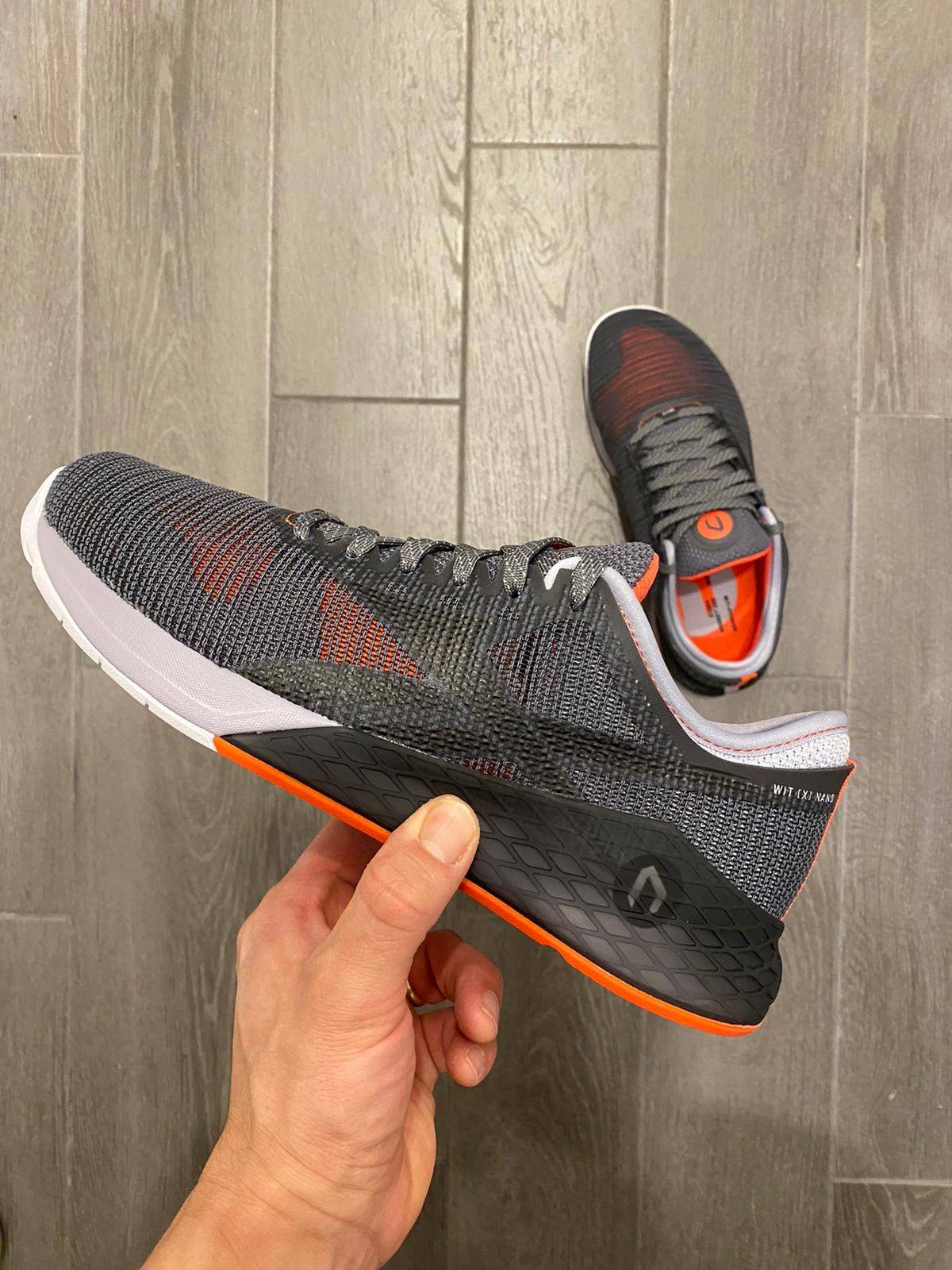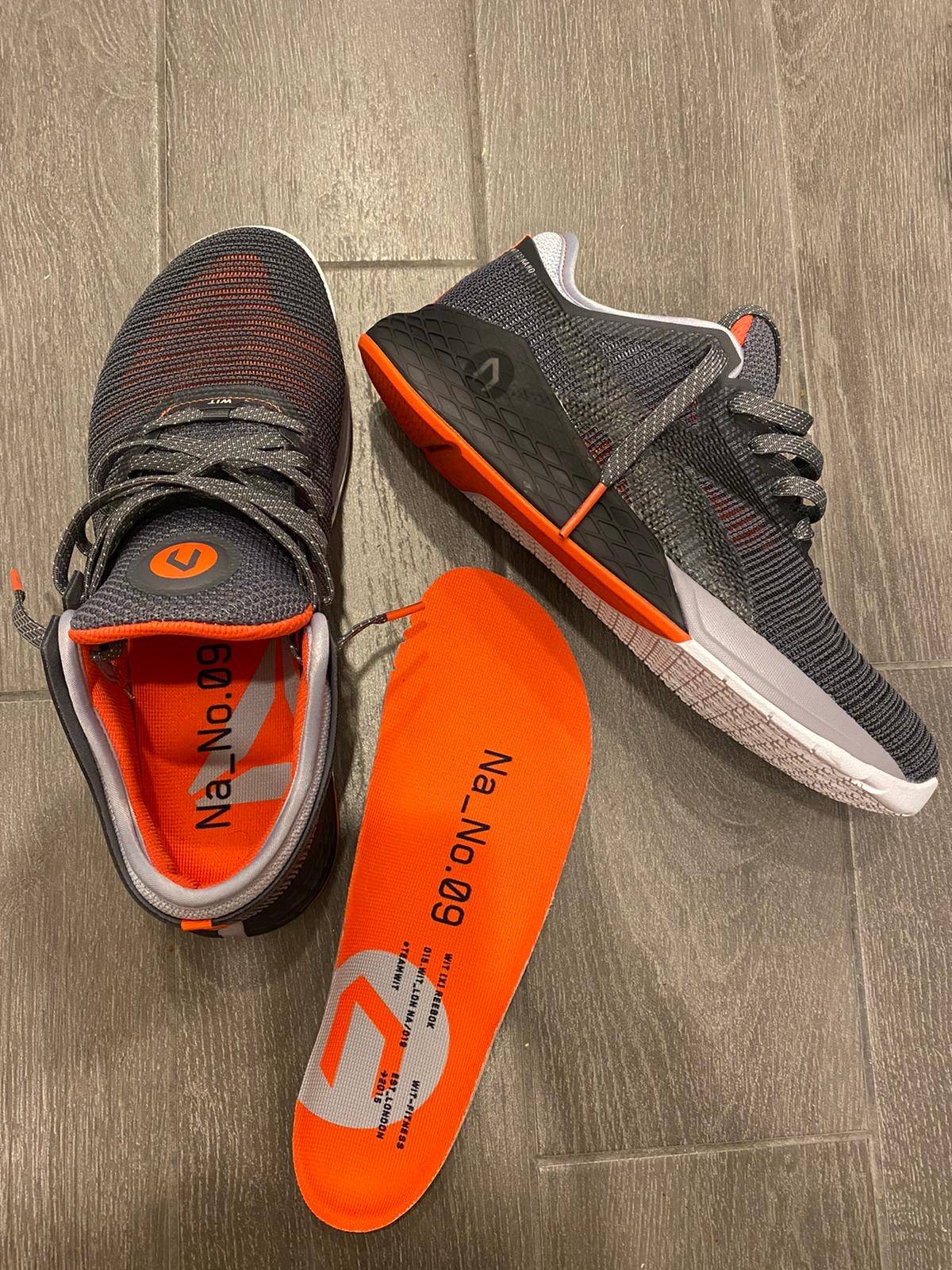 The shoe's iconic branding is especially distinctive. WIT's steel grey logotype is debossed at the base of its eyelet, which is underscored by orange stitching. You'll notice this combination appears again on the shoe's orange-tipped laces, also bearing the WIT logotype. In addition, WIT's logo can be found under the smoke grey heel cup as well as on the tongue, but this time it's rendered in grey and orange—a union all fitness enthusiasts will instantly recognize.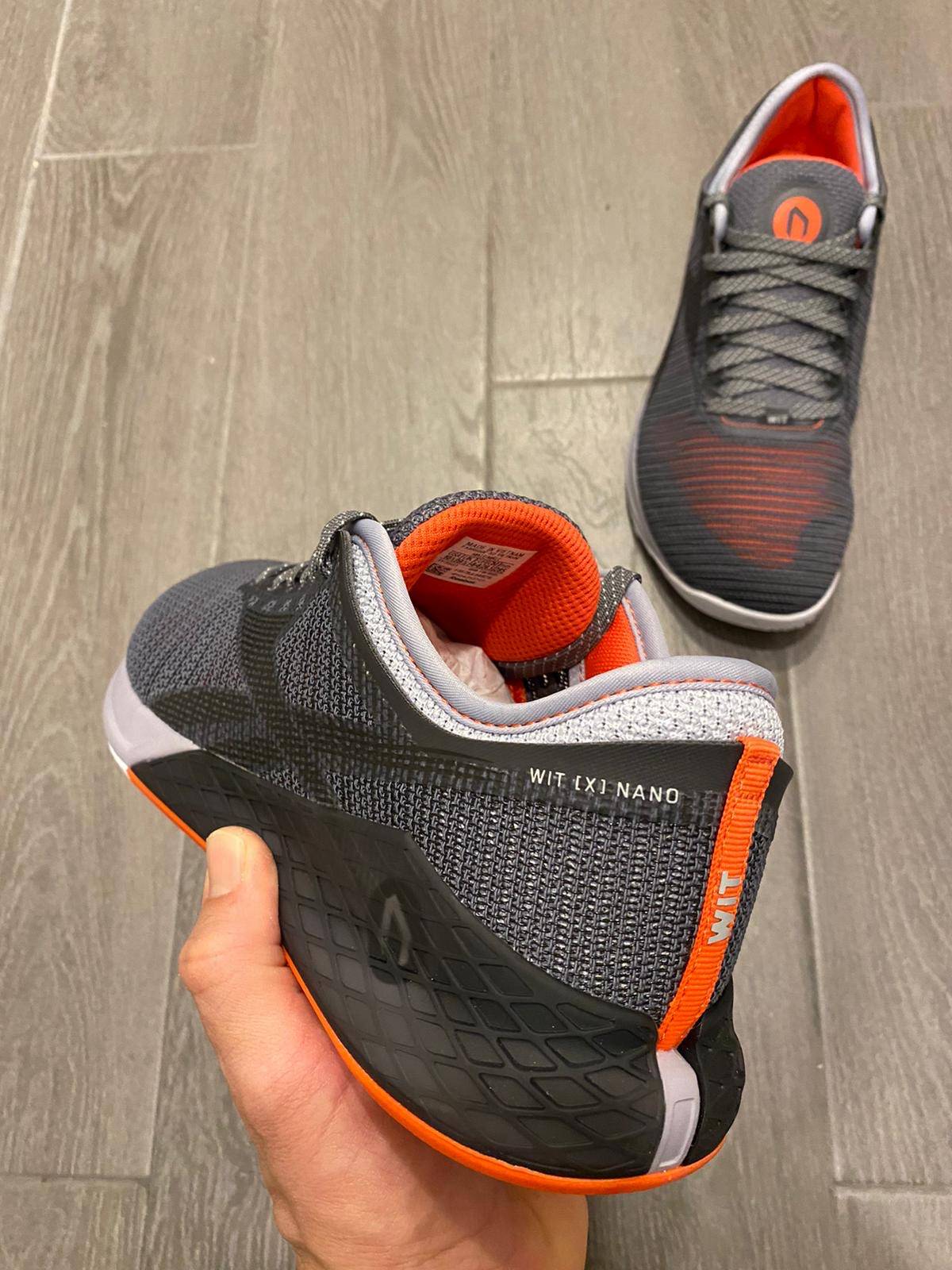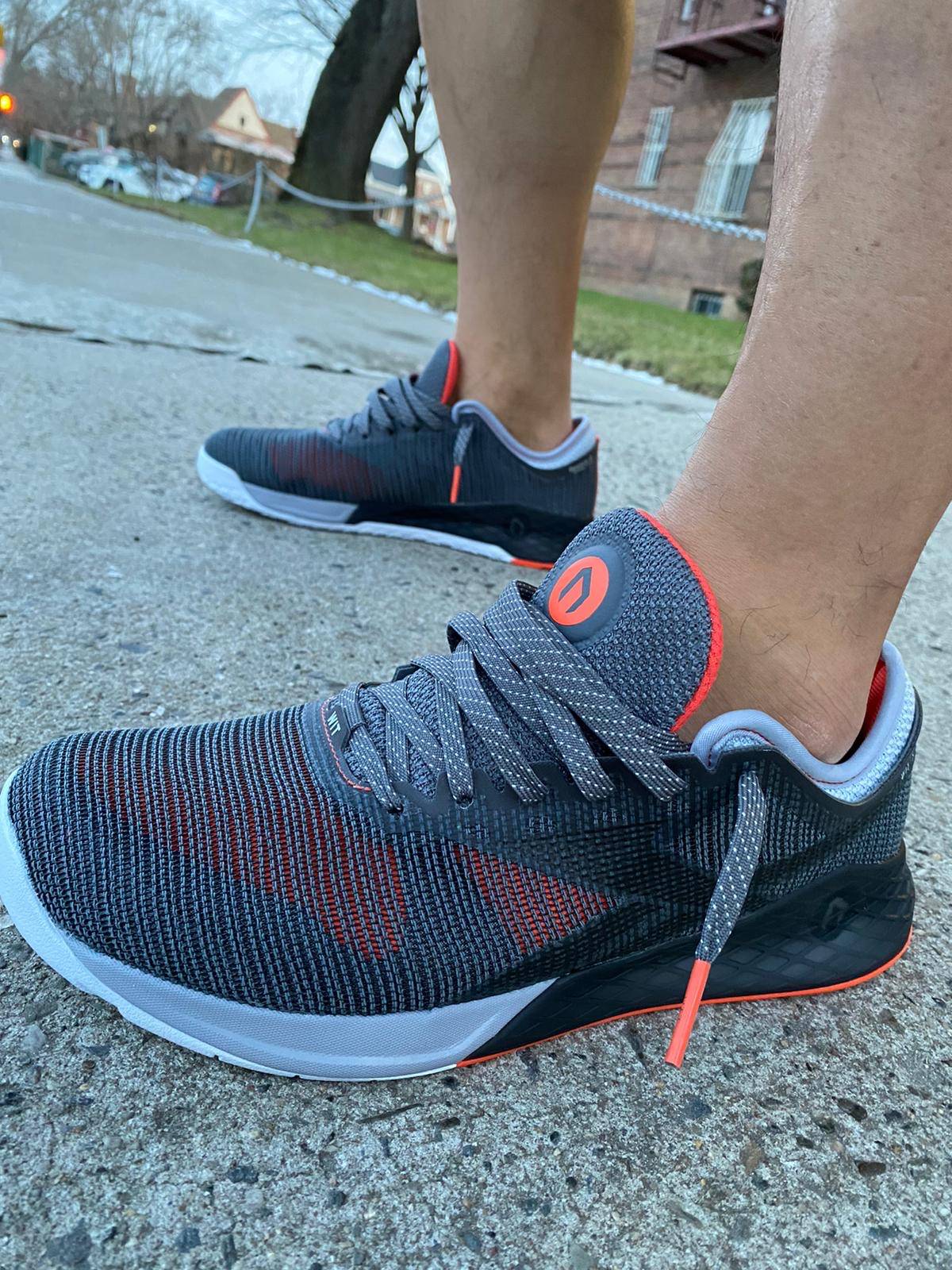 While you'll certainly love wearing the WIT x Nano 9, you're also going to love admiring the shoes from afar when your feet aren't inside them. There are so many more details worth noting. Surrounding the sock liner is an interior orange sock that boasts a grey ankle collar and orange stitching. With its industrial typography and high-tech sensibility, the shoe's insole is the perfect marriage between gritty and flashy, serving as a reminder of how far WIT has come since being founded in 2015.

Overall, there isn't much daylight between the myriad training shoes available on today's market. However, if you're looking for a shoe that has a deep connection to the functional fitness space, represents Reebok's strong British origins and pays homage to the premier European training retailer, then the WIT x Nano 9 is an essential (and dynamic) addition to your footwear collection.
- Kevin / @reeboknanoclub
A huge thank you to @reeboknanoclub for taking the time to pull out all the detailing on our upcoming Collab release. We are truly humbled that all the detailing our team spent so much time configuring for this release has come through.
To say Kevin has his fingers on the pulse of all things Nano would be an understatement. Kevin has been running curatorial page, @reeboknanoclub for 3+ years now. Boasting over 115k followers, Kevin's page is a digital touch point for like minded collectors to show off their Nano collections and create a dialogue around industry offers and new and exciting releases.