Bodyweight Workout With Lauren Stallwood
KILLER CORE SESSION WITH LAUREN STALLWOOD
15 Minutes
Coaches Tip
Hey guys! Today we are going to do a bodyweight home workout. The workout is split into 3 parts. The first part is 21 reps of each movement, then 15 reps, then 9 reps. After you've completed part one, rest for 60 seconds then head on to part two. After part two, rest for another 60 seconds! Go hard during each part, these workouts are short and spicy!
When finished, I have a 3 round core finisher for you to try which consists of hollow rocks, glute bridges and core holds. Enjoy!
WORKOUT
21-15-9
Burpees
V-ups
-Rest 60 Seconds-
21-15-9
Lunges (doubles)
Push ups
-Rest 60 Seconds- 
21-15-9
Kick back burpees
V-ups
-Rest 60 seconds-
21-15-9
Air squats
Push ups
-Rest as needed-
3 ROUNDS 
10 Hollow Rocks
20 seconds Hollow Hold
10 Glute Bridges
20 Seconds Glute Bridges Hold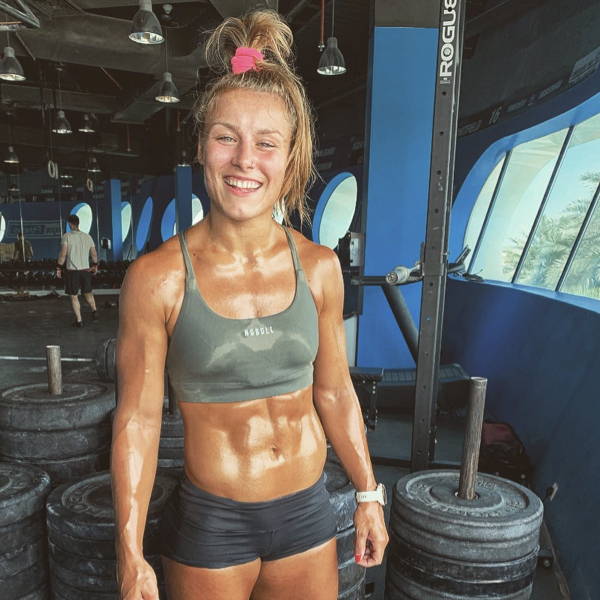 Meet LAUREN
COACH AT VOGUE FITNESS
Lauren Stallwood is an Abu Dhabi based CrossFit coach and personal trainer at Vogue Fitness, home of CrossFit Yas. 
Lauren has competed at CrossFit sanctioned events such as the Dubai CrossFit Championship and the French Throwdown. Lauren's background is in Rugby League, where at the age of 17 she was given her first international cap for England Women, going on to play in the Women's Rugby League World Cup the following year.
Follow Lauren on Instagram and and Youtube for a variety of different workouts that will sure make you sweat! 
INSTAGRAM: LOZSTALLWOOD2